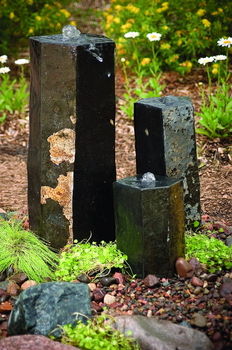 Water features, including fountains, are a popular way to add beauty and dimension to any landscape. A properly installed fountain can provide visual interest and the calming sounds of lapping water to your yard or patio. Grasshopper Gardens carries and installs a wide range of relaxing and gorgeous fountains.
Types of Fountains
Spouting Fountains - This type of fountain utilizes a submerged pump attached to a pipe to spray water up in the air from a pond, lake, or swimming pool. Spouting fountains can be paired with statues and many style offer adjustable spray patterns.
Cascading Fountains - Tiers, or varied levels, provide a gently flowing path for water to spill across. This type of fountain is available in a variety of sizes, from table top to large free standing styles. Typically, all the plumbing is located inside the fountain, making them easy to install, but some can also be incorporated into larger water features.
Wall Fountains - With a flat back, wall fountains are ideal for smaller spaces. Wall fountains can be installed against walls and fences.
For more water features that can liven up your outdoor living space, such as garden waterfalls or ponds, view our Water Features & Ponds
Come see us to turn your yard into a unique and relaxing environment with a landscape fountain.