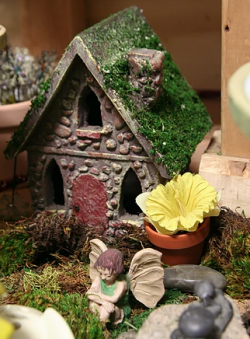 Looking to bring the magical fairy world into your own back yard? Get caught up in the magic with Grasshopper Garden's exquisite fairy collection. Your own fairy family waits to be discovered, with new friends arriving regularly. Our fairy experts are happy to assist you in locating the perfect fairy friends to add to your dream garden.
Fairy folklore tells us that these mystical creatures originated in England during the Victorian era, bringing good luck and safety to those who invite them to their garden. These mystical creatures can also be fun and mischievous, so watch out for practical jokes once they feel comfortable. Gnomes and goblins are also a huge part of the fairy world, so make sure you have a nice balance in your garden to keep the peace. Have fun and create some magic of your own.
Grasshopper Gardens is your destination for fairy garden supplies, offering a variety of pieces to enhance your magical garden experience. With a great selection and fantastic pricing, Grasshopper Gardens is dedicated to connecting our customers with fairy friends and helping them build their collection. If we don't have an item in stock, we are happy to place an order for you.
Stop in today to see our current selection of whimsical fairy gardens, fairy houses, and supplies to create a tiny fairy habitat in your garden.
View our fairy garden gallery website to see some of our whimsical fairy garden collections.