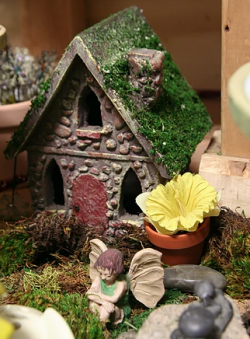 The realm of the magical fairy world can be yours to have by adding a simple fairy door to your garden. But watch out, the fairy gardening bug is catching. Once you feel the magic, you will want to invite more fairies into your garden.
Fairy folklore tells us that these mystical creatures originated in England during the Victorian era, bringing good luck and safety to those who invite them to their garden. These mystical creatures can also be fun and mischievous, so watch out for practical jokes once they feel comfortable. Gnomes and goblins are also a huge part of the fairy world, so make sure you have a nice balance in your garden to keep the peace. Have fun and create some magic of your own.
Grasshopper Gardens is becoming one of Livingston County's largest suppliers of fairy garden supplies. Each day we get a magical box to add to our collection. Excited customers come in daily and are pleased with our huge selection and great prices.
Stop in today to see our current selection of whimsical fairy gardens, fairy houses, and supplies to create a tiny fairy habitat in your garden.
View our fairy garden gallery website to see some of our whimsical fairy garden collections.