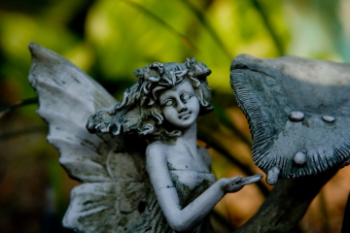 Stone Statuary
At Grasshopper Gardens, we carry an amazing selection of garden statuary including fairies, animals, and abstract pieces. The right statuary can accent a garden path, offset a flower bed or water feature, or even be the focal point of your yard or garden. Our statuary manufacturers include:
Massarelli: The artists for Massarelli craft and finish each piece by hand, creating a unique, high quality stone statuary for your garden.
Stonecasters, LLC: Stone statuarys from Stonecasters are crafted with elegance and quality in mind. Each Henri fountain and garden decor created will bring beauty to your outdoor space.
Whether you're looking to add a stone statue to match your garden theme, or you just want another special feature among your eclectic garden decor, Grasshopper Gardens can help!
Metal Garden Art
A metal sculpture or statue can be a great compliment to your garden's aesthetic. We carry a selection of metal garden art pieces, large and small, to fit any theme or look you want to bring to life in your garden. We also carry Think Outside metal statues. The Ee-ii-ee-ii-oo collection brings lovable animals to life in these unique metal sculptures. Metal art adds a new dimension to your garden design!
Contact or visit us today to view our great selection of garden statuary including metal garden art pieces.